Mesh Panel Systems
AF MESH PANEL SYSTEMS are multi-purpose perimeter fences which offer optimum protection. The high quality of construction ensure they will meet the increase need for security. Suitable for all applications including; sports facilities, playgrounds, schools, industrial fencing and fencing for the commercial sectors. Functional and modern fastening systems ensure a strong assembly while taking into account the need for a durable and robust system combining security and aesthetics at an affordable price. All systems can either be galvanised only or galvanised and polyester powder-coated finish to most RAL Colours. Posts and fixings are modular and can be adapted to suit different security requirements and budgets such as full clamping strip or clip only fixings all with tamper-proof bolts.
AF SINGLE WIRE MESH PANEL SYSTEM
AF Single Wire Mesh Fencing Panel construction features galvanised horizontal and vertical rods 5mm diameter resistance welded at the intersection points to form a 200mm x 50mm mesh pattern. This produces a modern and attractive appearance which is ideally suited for most boundary and general security applications. Panels are available in three heights 1.8m, 2.0m and 2.4m high and have a 30mm high barbed top on one edge of the panel. Additional rigidity is provided by pressed 'V' beams formed horizontally in the panel.
The system is complete with 60×60 SHS posts positioned at either 2.5m or 3.0m nominal post centres depending on application and budget. The systems come complete with plastic cap and steel panel fixing brackets.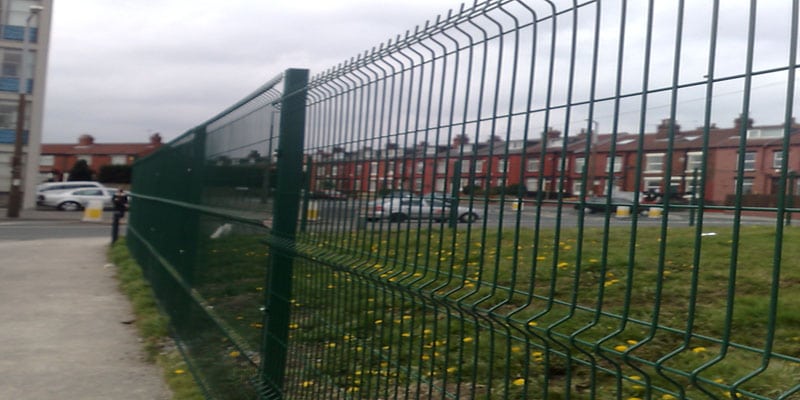 AF TWIN 656 MESH PANEL SYSTEM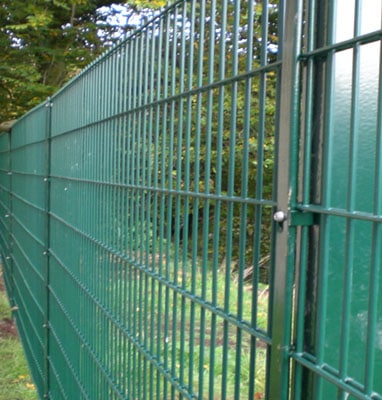 AF TWIN 656 MESH PANEL SYSTEM is our most popular design and is ideal for demarcation, security and sports applications for low impact areas and can be multi-lifted to a height of 4.0m. Panels are manufactured from galvanised twin 6mm horizontal wires with a 5mm vertical wire to give un-paralleled strength and visual impact. The unobtrusive nature of the system allows clear visibility through the panel thus creating no hiding places behind the fence line.
A welded mesh fencing system with a distinctive appearance which allows excellent through vision making it suitable for many applications. The panels are welded at the intersection points and offer a superior degree of resistance to impact damage or vandalism to the fence line. One edge of the panel is finished flush whilst the verticals project 30mm from the other edge to form a barbed top.
Panels can be from 1.2m in height up to 2.4m in a single panel but can be used in a double configeration to gain extra height The barbed edge may be positioned at ground level in situations where a flush top is required. Posts for AF 656 and AF 868 are made frome 60 x 60 SHS positioned at 2.525m nominal post centres and feature factory fitted inserts. Panels are attached by means of robust steel fixing brackets with optional clamping strip fpr greater security and M8 diameter tamper-proof bolts.
AF TWIN 868 MESH PANEL SYSTEM
AF TWIN 868 MESH PANEL SYSTEM is the most rigid form of weld mesh fencing available, and is the big brother of AF Twin 656. Manufactured from twin 8mm horizontal wires and 6mm vertical wire at 200x50mm apertures. These panels are designed with strength in mind and can withstand greater impact making them ideal for sports areas and playgrounds. Panels can be multi-lifted to a height of 5.00m. Whilst retaining their aesthetic appeal and combining anti-tamper fixings, making them suitable for most security applications.
Other Fencing Services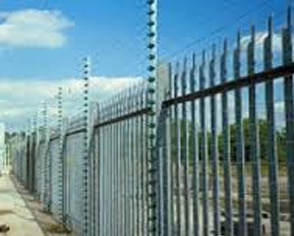 Security Fencing
This our maximum security mesh panel. The system's ability to provide a single …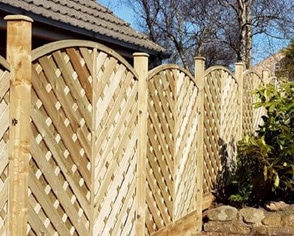 Domestic Fencing
Feathered edge fencing is a very popular residential solution with both developers …
Call 01274 964930 now to talk through our range of railings or any other fencing system