Security Fencing
We supply and install only the highest quality, steel security solutions from standard AF chainlink applications through to industrial steel fencing including AF steel palisade, high security fencing which includes AF 358 or a combination of both with electric fencing if required for maximum security.
AF STEEL PALISADE
AF STEEL PALISADE is a very popular solution & provides a high level of protection from the intruder at a reasonable cost. AF Steel Palisade fencing is especially popular for schools and industrial sites because of its high damage resistance and the fact that it is so difficult to climb. A wide range of height & security specifications are available depending on application. AF Palisade is usually supplied with standard "W" type paling, but we can also supply more expensive "D" profile pales on request.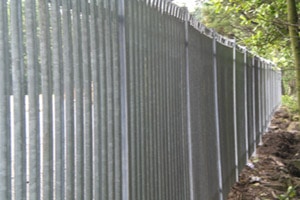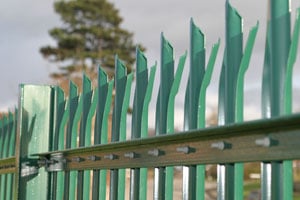 AF STEEL PALISADE
AF Palisade is increasingly seen by owner and insurance companies alike as a cost effective solution to the perimeter problem. All AF Palisade is supplied with 8mm 'shearcone' security bolts as standard to all our palisade steel fences. Two horizontal rails are used as standard for palisade fences up to 3m, with additional rails being fitted above that height to ensure the integrity of the fence. Triple pointed security pales are standard above 1.8m high, with safety rounded and notched tops below that height. (Other profiles are available upon request.)Posts are generally 102 x 44mm RSJ, increasing to 127 x 76mm for fences above 2.7m. For the finish of Palisade Fencing, it is galvanised to BS ES ISO 1461:2009 as standard, with an option to polyester coat in a range of standard colours.
AF 358 MESH PANEL SYSTEM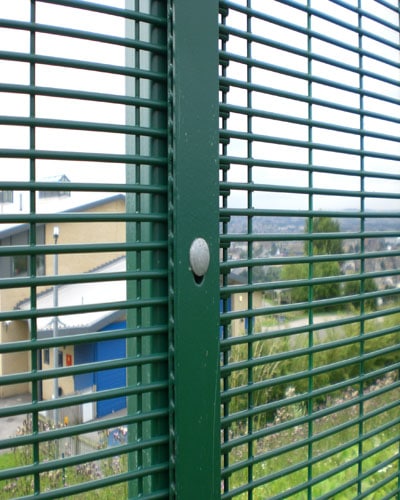 AF 358 MESH PANEL SYSTEM
This our maximum security mesh panel. The system's ability to provide a single panel up to 5.20m in height means that it is widely specified by prison and military establishments, and authorities wishing to protect assets which have a significant strategic importance.
It is also frequently specified at heights up to 3.60m for use in schools, parks, leisure and recreational areas as well as retail and commercial developments. AF 358 provides a pleasing appearance and excellent security.
Where the application specifically demands a heavy duty security mesh design to meet specifications including the use of CCTV, or where a visual deterrent is a primary consideration, our 358 Security Mesh system provides an ideal solution for a wide variety of high security perimeter and access control applications.
Utilising 4mm cross and line wires to offer a significant degree of strength and versatility through the panel. The configuration on the '358' panel is a Home Office approved design as it is widely used in prisons, military sites and secure compounds, The mesh spacing 76mm x 12.5mm is designed to be finger proof, anti climb and extremely difficult to penetrate using normal hand tools.
Call us now on 01274 964930 to discuss the best options for your premises or use the contact form to the right..
Other Fencing Services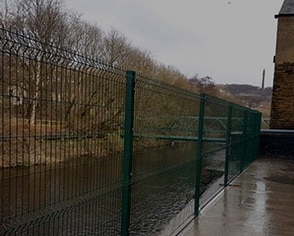 Perimeter Fencing
Schools today have an obligation to secure their perimeters so that visitor access …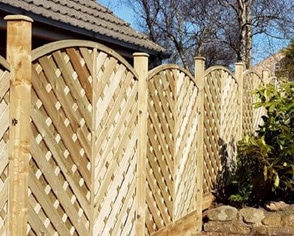 Domestic Fencing
Feathered edge fencing is a very popular residential solution with both developers …
Call 01274 964930 now to talk through our range of railings or any other fencing system